I often wonder how the stuff that gets into Big Lots makes it in there. With a strange assortment of Megablox lego knockoffs and a plethora of European cookies biscuits, my gut feeling is that its part of strange effort by a Dutch mob group to exert its influence over our children, but then again my conspiracy theories have been known to crash and burn.
Case in point, the amount of off-the-wall American treats that line the grocery shelves. From Paula Deen's peanut line to potato chips from every backwater town in Appalachia, Big Lots doesn't discriminate when it comes to bringing in, well, stuff.
Stuff makes me curious, especially when it reminds me of other, better stuff that was egregiously taken from store shelves without due process or proper explanation. I am of course speaking of French Toast Crunch. Consistently ranked as one of the top foods we will "never" see again, it was discontinued in the United States in 2006 and remains one of the only reasons I'd ever consider moving to Canada (the other being an attempt at a CFL career, but that's another story.) I only vaguely recall eating the cereal, but to my knowledge it remains the only real experience I've ever had with French Toast anything, unless you count a sunburn I received at the age of 14 while I was napping on one of those boring river cruises through Paris.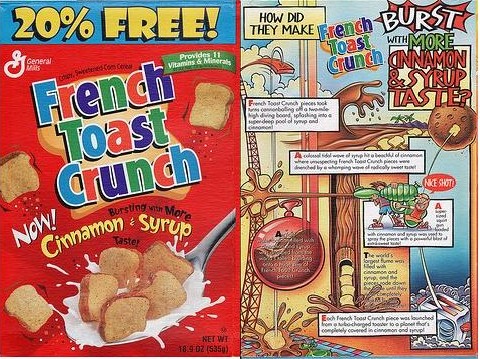 I don't bring all this up to just jog your memory for the sake of depressing our collective national conscience, but rather because I spotted this while in Big Lots:
That's right. CRUNCHMANIA. Produced by Kelloggs and not General Mills, mind you, each individual, 50-gram pouch cost me a quarter. A self-proclaimed "good source of Calcium" and a whopping 4 (count 'em, 4) vitamins, it promises Bite Sized French Toast Graham Sticks which are both naturally and artificially flavored. In other words: it's a cereal disguised as a 230-calorie pack snack.
The taste is exactly how it's described, and surprisingly reminiscent of what I can remember as French Toast Crunch. A strong graham flavored base mixes with a cinnamon sugar sweetness almost exactly like a Nabisco cinnamon graham cracker, but there's also a buttery-taste that mixes with a slight maple flavor. I wouldn't say it's authentic, but it bridges a line somewhere between Cinnamon Toast Crunch and Waffle Crisp, and reminds me of the faux French Toast taste of my youth. In milk, the story isn't so positive. Despite their hefty nature the thick, toast-shaped squares dissolve easily, and don't take on any added flavor. Once more, they don't leave a sweetly satisfying end-milk, and just come across as altogether "meh."
Which speaks to the problem of these as cereal. Crunchmania pieces lack the essential lightness of cereal texture, and fail to give off the more aptly described "crisp" that comes with Cinnamon Toast Crunch.  Likewise, their size makes them awkward to eat in the bowl preparation method, and better support snacking from the bag.
French Toast Crunch Found? In flavor, I believe so. But an exact and even breakfast worthy substitute, not so much. While I've become addicted to snacking on Crunchmania and would buy them again, something tells me their existence was limited in production, and aren't readily available.  Still, I'm keeping one pack unopened, and will report back further once a certain box the customs agency may or may not have intercepted reaches my place of residence.
Kelloggs' Crunchmania
Price: $.25 (Big Lots)
Ranking: 7/10
Chances I'd Buy Again: 60%