We've all, for better or for worse, been there before. Whether tasked with buying groceries for a week-long family reunion complete with yard games and "team building," or just killing time before driving across the street to that dentist appointment you're early for, a person wandering through a Super Walmart cereal aisle can't help be overcome. Like a catalogue of greek gods in a classical epic, the names and descriptions of brand names, store brands, and health brand cereals scrolls on without end. Beholding all the choices, you're suddenly led into a freighting thought; should I try something different?
Oftentimes the answer is no. But that doesn't mean we're without regret. Live dangerously, the words of Mike Leach remind us, as we kick ourselves for walking out with that same box of Cocoa Puffs or Froot Loops we always get. Am I the only one who gets the feeling, intensified after the late afternoon monotony that comes days later when that box of Cocoa Puffs gets stale?
Here are ten cereals I always think about buying but never do. Whether hard to find or just obtuse, they always seem to elude my hard-earned cash. So today I'm asking you, friends of the whole grains, lots of sugar, and cartoon characters, if any are worth it, and if you, too, have been meaning to try one of the more obscure cereals that always seems to get overlooked.
 Product 19: What's in a name? Perhaps enticed by this familiar question, I've long been curios about this "adult" Kellogg's brand, which, judging from its yoga-inspired box, seems to be marketing at the Special K crowd. Four grams of sugar don't get me very excited, but the mix of corn, oats, rice, and malt flavoring is a mix that appeals to my inner grain and carb lover. Amazon reviews are positive, but can a sugarholic like me find zen in the red box?
Basic 4: This is what happens when a cereal never goes on sale and boasts a number as its mascot. All things considered though, I really should give this cereal a try. Not only does it contain virtually every fruit on God's green earth in dried form, but it combines plenty of sweetness, crunch, and nutty whole grain taste. As a little kid one of my favorite cereals was health-food in disguise Smart Start, which, judging by the sugar content, probably tastes much the same as Basic 4.
Grape Nut Flakes: I know Grape Nuts are iconic, but I'll be honest; I have no interest in eating something which looks like Bird Food. Flakes, however? That's a different story, and for some reason I get the impression these taste like hearty and malty flakes that have been freshly reaped from the fields. Damn my symbolic search for the American heartland!
Shredded Wheat (Any Flavor): Oh Post, how I do love your kids cereals. Yet when it comes to bite-size wheat squares, I remain a committed Frosted Mini Wheats fan, no doubt because of the adorable talking cartoon characters and Chocolate flavor variety. Does that mean Post's more adult-targeted Frosted or Honey Nut Shredded Wheat are no good? I doubt it, but I've still yet to find out for certain. I'm especially intrigued by the Frosted and Honey Nut versions.
Oatmeal Crisp: In the interest of full disclosure I vaguely recall  once having this or something like it as a little kid, and because of that vague memory of chewy and sweet grain mixed with oats and raises, I constantly find myself reaching up towards the shelves to buy Oatmeal Crisp. Yet I can't say for certain how it tastes, and while it looks good, it's one of those cereal's that never seems to go on sale. And then there's the point about nutrition. Hey, I know I throw caution to the wind most of the times, but at 20 grams of sugar per serving (and who really follows servings?) I'm always dissuaded to settle for, well, actual oatmeal.
Crunchy Nut (Any flavor): I've heard amazing things about this British import, and it's not like the flavors hard to find or expensive. So why can't I just pull the trigger and buy them? Your guess is as good as mind, but it the Caramel Nut flakes really do taste like Cracker Jacks then I need to get the ball rolling.
Marshmallow Froot Loops: I love Froot Loops. I'm of the mind that marshmallows are the most underrated textural component of any proper snack bag. Stands to reason I'd like these. A LOT.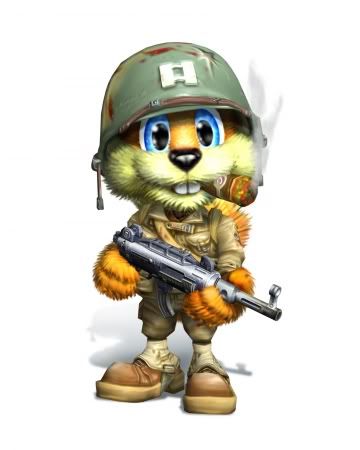 Honey Nut Clusters: I almost never see this in stores but when I do I always give it a look. Like other cereals on the list, it's one which rarely goes on sale, but unlike many cereals on the list, it actual has a mascot. And what's not to love about a squirrel. Maybe it's because he reminds me of Conkers and that awesome Gameboy Color game I had back in the day, or maybe it's because I'm a sucker for oat clusters. but I've been meaning to get my hands on this.
Quisp: Is it discontinued? For the longest time my local Weis used to carry it, but sometime in the last year they stopped, and I haven't seen it anywhere (including big ass Superwalmarts in Mississippi.) Amazon testifies to its cult status, but it's not even available online anymore. Am I too late?
Ooops All Berries! How have I not gotten around the buying this hyper sweet berry-flavored cereal? As someone who picks the berries out of the Crunchberries, it amazes me that I wouldn't just make life easier for myself as buy the good stuff. Not only that, but I've been meaning to make a Cap'n Crunch Peanut Butter and Jelly mix for the longest time, and I'm sure the Cap'n berries would compliment the salty-sweet taste of Peanut Butter Crunch perfectly.