"Adam?"
The voice was gentle yet sudden, like the first creeping rays of sunlight rising at 5:30 on a Wednesday morning. Called out in my own predawn anxieties only by the sudden mention of my name, I turned to face the speaker, meeting the gaze of a woman of average height and ordinary appearance. The woman, maybe in her 40s, maybe in her 50s, held up an I.D. card with my picture on it. I mentally cursed, verbally thanking her in a stutter while mentally chiding myself for dropping my Naval Academy I.D. to begin with. Hardly up an hour, and already I was losing things left and right.
"Guess I should be more careful," I let slip. "They're not gonna let me on base without it."
She smiled, saying, "I figured it was you. You looked like you were in the military."
Right then and there my heart hit the floor.
Looking down at the ground momentarily, drooping my body ever so slightly, mentally exhaling images from the past. I managed but three words.
"Oh. I'm not."
***
From there came the story. Inevitable, to use the most cliché word I can come up with, but a prerequisite nonetheless on this day of days. Guilt. Depression. A sense of impotence and failure that after four years has never fully surrendered the field, the memories of my past all came rushing back by her mention of the military. Just as it has so many times before. Just as it has and just as it will again, with no greater force of emotion, than on each 11th day of September.
This day means so many things for so many people. It almost seems inconsequential, among the catalogue of poignant reflections, to offer up my own. But in that cathartic attempt to connect, to confirm the very existence of emotion we all feel and suppress but can never truly outrun, I share my story just the same.
I was 12 years old on September 11th 2001. A self-conscious and doubting seventh grader, I was also at a new school with new people, and in the roughly two weeks since I began that year, I'd been called every name under the sun. The skinny kid with the parted hair and short shorts, I kept to myself in those first few days, caring only about killing the clock to when I could leave school and be by myself.
That was, until the towers came crashing down.
It was an awakening for me in many ways, kick-starting my depressed, apathetic young mind into a spirit of purpose and belief, as well as self-confidence in myself and a renewed interest in life. I didn't know it would lead to that at 10:00 in the morning, however. I still vividly remember the tears rushing down my face like a melting glacier. I recall the fear — the overwhelming fear I felt – that as those towers fell an apocalypse was materializing. I trembled alone in a guidance counselor's office, searching every faculty of my being for some kind of explanation. Out of that experience came a realization. Evil was born that day in my young mind, existing, as it were, not in a book about a Galaxy Far Far Away, but rather in my world, my country.
Evil, but also good.
And in the promise I made to a God I had never really known before that day, there emerged a determinism and identity to go along with that good. So it began, and from that day forward I walked a little taller. I spoke a little louder. I got up a little earlier, and I believed a lot stronger. It wasn't just speaking my mind or taking pride in my country. It was about learning that life meant a world beyond me. It was about taking the time to say 'hello' to people, stepping into the light of life and stepping into the world. Enjoyment. Leisure. Thankfulness. Hope. All the emotions took on new meaning, like a picture book in the process of being colored.
It was also about preparing myself. Inscribed with a sense of patriotism but also determination, I resolved that the only thing I wanted to do when I got older was to become an officer in the military. And when the time came to go to college, that's exactly the route I began on, joining an Army ROTC unit. After a year of "testing" the program out I had become the consummate cadet. With the highest physical fitness scores and a strong acumen for academics and military science, I had classmates and friends telling me I was destined for great things and a bright future.
That bright future faded the summer after my freshman year. Not with bang, but with a whimper. I went steadily downhill during my sophomore year of college, collapsing in on myself amidst a flurry of concerns, anxieties, and emotions which ultimately led me to doubt my ability to live the life that September 11th had led me towards. At some point the person I was suppose to be ceased to exist. It's as if I had fallen asleep, choosing to quietly leave the world beyond my control, the world that September 11th had shown me existed and had to be faced. Still walking, I left my college and my ROTC unit, eventually rebuilding my life.
But I hadn't awaken my person, and had not turned back around to the view the world.
***
September 11th, 2001.
What was, what is, it about?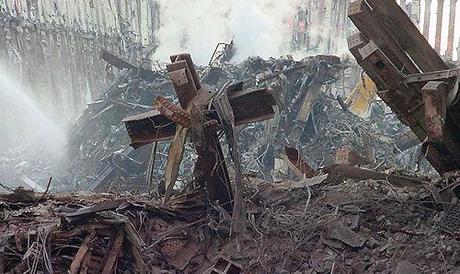 Senselessness? Purpose? Good? Evil?  Self Recognition? Global Awareness?
Choice.
With sore eyes I allowed my gaze to come up from the pavement. I step back  into the present, into another weekday morning before work. The woman at the Y passes no judgement on my actions, isn't even deviating from her pleasant, warm smile. We speak a few minutes longer, her telling me about her son in R.O.T.C, asking questions about my experience and why I left my own program. They're questions I answer, honestly and with conviction, feeling the tinge of regret and remorse, but also realizing the choice has been made. Whatever my feelings now, I can't unmake them. I don't need to live within a shadow of shame. I can choose to open the picture book again and pick up the crayons.
We live with our pasts, just like we live with that day. It's certain. Fact. History. Unremarkable. There's pain. There's anguish. Disappointment and a sense of questioning and hopelessness, the memory of that day, like the feeling of failure and regret I've carried from my life decisions, can slow us down and bury us in depression and anxiety.
That is, if we choose to let them.
I think back to September 11th, and to the heroes on Flight 93, or the firefighters who rushed into an inferno of certain death to save others. I think to the subsequent fighting in Afghanistan, and the young men and women who chose the life of disquietude and brawl in order to protect us from harm.  And, I look to myself, and the person I've become. I know it's a person I'm not happy with, but every September 11th I'm reminded, in that convergence of feelings from years past, that it's a person I chose to be. Just as much as it's a person I can choose to no longer be.
 ***
I thought about that person, as I huffed and puffed in the pre-dawn exhaustion of a morning workout. I allow myself to sleepwalk through too many days, living the kind of life I lived before 9-11. But in the reminder of the day, in the reminder of the person I could have been, I'm forced to ask myself whether or not I can walk on into a wider world. Not a world of my choosing. Not the comfortable one filled with childhood innocence and personal control and petty materialism. And even though the disquietude, and even though the brawl of that world may not match that which I had originally planned to face — had to face — it doesn't make the struggle any less essential.
I walked out of the gym, into the cool air of a late summer morning after a thunderstorm the night before. I take a deep breath, knowing the world that September 11th opened up for us is a world of consequence, and a world in which we're not always going to like what see. But it's a world where mornings like this provide us respite through the storms, giving us the worthwhile feeling of knowing we're alive.  For that I thank God, and the sacrifice of all those people who died that September day.