Six picks for the weekends games, all of which I plan to tune into at some point. Got an issue with one of the picks? Hit the comments and let me know. I promise to at least pretend to consider your egregious reasoning.
Baylor at Louisiana Monroe: Can I see some love for Kolton Browning for Heisman or what? How many quarterbacks in the country can go into SEC stadiums (of teams not named Vandy and Kentucky, to boot) during back to back weeks and come out with a 6-1 touchdown to interception ratio? That being said, I like the physicality of Baylor's defense, and think two weeks of emotional highs leave the Warhawks a little slow out of the gate for their home opener. A late comeback bid fails as the Bears win 34-31.
Miami (Fl) at Georgia Tech: Is it just me, or do the Rambling Wreck drop the ball (literally) every time Paul Johnson's team is about to "turn the corner" in ACC play? This is a huge matchup given Georgia Tech's week one loss to Virginia Tech, but considering Miami's 3-0 record by a combined 92-34 over the last three years, I'm not terribly optimistic for Johnson and company. I'm sure this guy will have something to say about how I'm wrong about Johnson's success in the ACC, but I look for the trend to continue this Saturday. I'll be pulling for the Yellow Jackets, but I'm picking 'Canes 27-21.
VMI at Navy: Navy's been destroyed on the road against BCS teams so far this year, and after the last natural disaster setback against Penn State, team captain Bo Snelson vowed the Mids would be better. I really hope so. If Navy can get to some real option football then the offense should hum, and thankfully VMI doesn't have the horses to run with Navy for four quarters on defense. As for Navy's defense? Again, let's just say the best thing I can do is hope, at this point. It's going to be a long season for Navy fans, but the Mids win this one, 42-28.
Utah State at Colorado State: The battle of master against the apprentice when it comes to offensive coordinators. Dave Baldwin, USU's former OC and one of my favorite coaches to talk to, is now leading Colorado State's offense, although the transition hasn't gotten off without a few bumps. Utah State and Matt Wells' Power Spread attack just has too much talent, and given how well the front seven of the defense has been playing (especially against two very physical teams in Wisconsin and Utah) I expect the Aggies to ram the Rams, 38-17. Haha, I kill with these puns.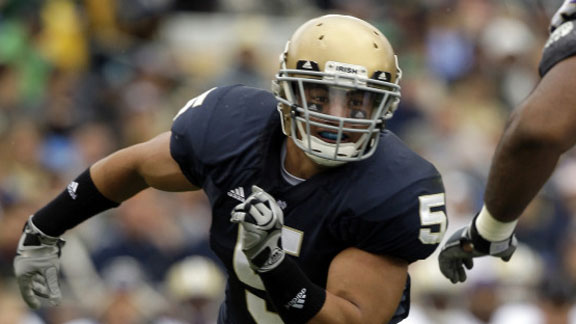 No. 18 Michigan at No. 11 Notre Dame: If I'm a Notre Dame fan (and I am) I'm still having nightmares about what Denard Robinson pulled off last year in the Wolverines' 35-31, come-from-behind victory. Still, I can't help get the impression that Manti Te'o and the Irish defense are playing inspired football. The Irish front seven  are fast and athletic enough to take Michigan out of their comfort zone and make Denard beat them, which, after last year's heroics, he can't possibly do again. I think the Irish offense is coming into its own, and I expect Tyler Eifert to come up big in a nial-biter of an Irish victory. Wake up the echoes, 24-21, Note Dame.
No 15. Kansas State at No. 6 Oklahoma: I really like Colin Klein, but I'm just not sold when it comes to Kansas State competing with the heavy hitters of Big 12 defenses like the Sooners and Longhorns. Gashing Miami is one thing (heck, Boston College did it) but keeping pace with Landry Jones and the Sooner offense is another. It's a close finish, but under the lights I'm going with the home team. Boomer Sooner, 38-31.